AVRDUDESS is a GUI for AVRDUDE, a tool for programming Atmel microcontrollers.
Some key features:
Supports all programmers and MCUs that AVRDUDE supports
Supports presets, allowing you to change between devices and configurations quickly and easily
Drag and drop files for easy uploading
Automatically lists available COM ports
Cross-platform with the use of Mono for Linux & macOS
Downloads
LATEST

setup-AVRDUDESS-2.9.exe (862.53 kB)
AVRDUDESS 2.9 (Windows installer)
Downloaded 2383 times
MD5: 42AF379273C9217EF2433768493544CD
LATEST

avrdudess_20190906.zip (584.77 kB)
AVRDUDESS 2.9 (Binaries, any OS)
Downloaded 642 times
MD5: 356B6866F72E5E240FB8A9C5892272F1
Source available on GitHub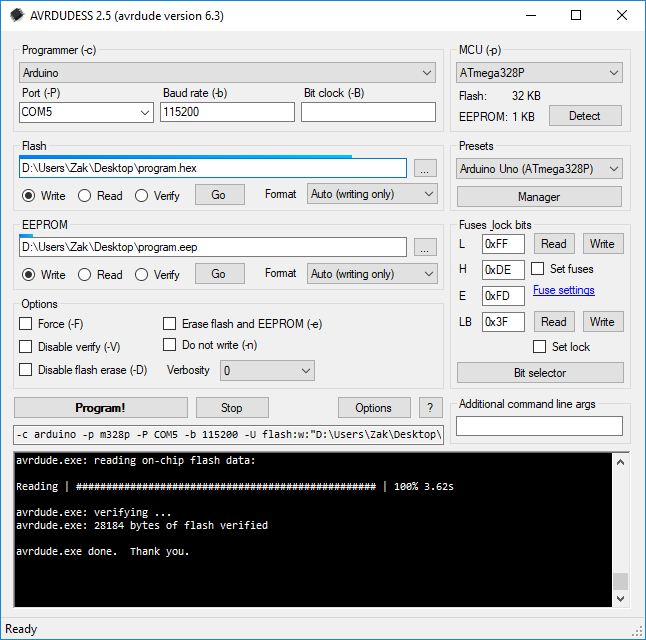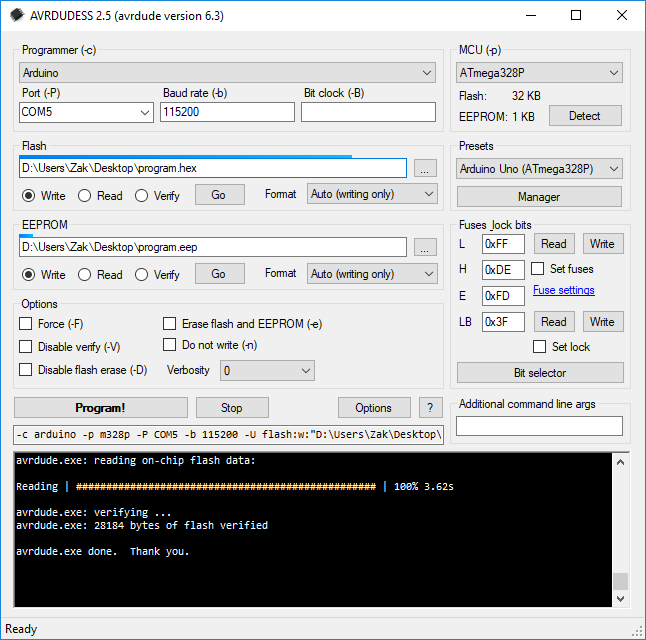 Requirements
Windows
Requires .NET Framework 2.0 SP1 or newer. All systems since Windows Vista will have the required version already installed.
Linux & macOS
Can be ran using Mono.
Has not been tested on macOS, but should work. Might need the --arch=32 argument.
mono --arch=32 avrdudess.exe
Installing on Ubuntu 18.04
Install Mono (this is the minimum required, you can use mono-complete for a full install):
sudo apt-get install libmono-system-windows-forms4.0-cil
On older versions of Ubuntu you might need to use libmono-winforms2.0-cil instead.
Install AVRDUDE and AVR-GCC (for avr-size):
sudo apt-get install avrdude gcc-avr
Run AVRDUDESS with mono, you might have to run as root (sudo) so that AVRDUDE can access ports if you haven't changed any permissions or rules.d stuff:
mono avrdudess.exe